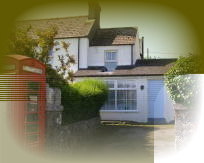 LOCAL RESTAURANTS and Pubs with food INCLUDE:
The following four pubs and Fairyhill Restaurant would be where most guests tend to visit during their stay and they are all very close to Llanmadoc Village. Some other pubs are then listed further afield. Finally, places to get fish and chips, ice creams etc etc are shown further below.
PUBS LOCALLY (TEN MINS DRIVE) ARE..........

(THEY ARE ALL GOOD BUT PLACES WE REALLY THINK YOU SHOULD VISIT ARE MARKED >> "VISIT" )
The Britannia Inn - Llanmadoc - "formal dining if you want it but in a local pub atmosphere" has restaurant serving fresh local produce - excellent chef www.britanniainngower.co.uk Tel: 01792 386624 - 7 mins walk from the cottage. Great food, and always a fab sunday lunch, but really quality cuisine such as local sea bass, Hake, Gower salt marsh lamb and welsh black beef. Dogs allowed in bar for bar meals but not the more formal restaurant. "VISIT"

The King Arthur Hotel (PHOTO BELOW) - Possibly the most atmospheric pub in Gower, with log fires and oak beams everywhere, and seemingly endless numbers of staff. Approx. 10 minutes drive from the cottage, located in Reynoldston, passing Fairyhill on the way via Burry Green. A country Inn and restaurant (and has a separate wedding venue) catering for full cooked breakfast (approx £6 each incl tea/coffee and toast) a fantastic specials board, evening meals and Sunday Lunches. Excellent fish and roasts on the specials board, great desserts. http://www.kingarthurhotel.co.uk/location.htm Tel: 01792 390775 Nice to have pub food on the outside lawns in front of the pub. (No Dogs inside) 8 mins drive from Middle Cottage and Wagtails Apartment or walk in 40 mins along country lanes. "VISIT"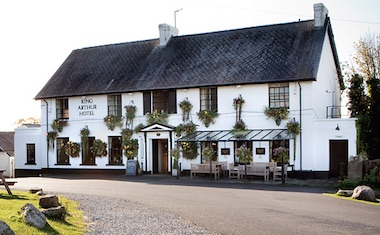 The Welcome to Town, Llanrhidian: Bistro, Pub - nice food, good beers and wines. Tel: 01792 390015 http://www.welcometotown.co.uk/ Gastropub of the Year 2016/17 "VISIT"



The Dolphin Inn, Llanrhidian: Classic old Gower local pub - nice rolls, cockles and laverbread in a bake etc - cash only no cards. "VISIT" (VISIT FOR A DRINK BEFORE EATING IN THE WELCOME TO TOWN OPPOSITE)




OTHER LOCAL PUBS MOSTLY WITH FOOD - ARE

The Kings Head, Llangennith, Very Dog Friendly, great pub, decent pub food, great ales and always a buzzing surfy atmosphere. 5 mins easy drive from Middle Cottage and Wagtails or walk in 40 mins directly over Llanmadoc Hill. A row of 1600s buildings housing wood-beamed bars, plus modern B&B rooms and surfboard storage. Address: Llangennith,Gower, Swansea, West Glamorgan SA3 1HX Phone:01792 386212http://www.kingsheadgower.co.uk/

Worms Head Inn, Rhossili Village, http://www.thewormshead.co.uk/ Tel: 01792 390512 15 mins drive via Burry Green and Scurlage Great fish and chips and decent sunday lunches, a must for an afternoon coffee or snack, see the fantastic truly breathtaking views over Rhossili Beach and Worms Head

The Rake and Riddle, Penclawdd (Gowerton i.e. east side of Penclawdd), under new ownership during November 2016. Google for details. Chris and Emily Mabbutt used to run the Greyhound so there is no doubt it will do great food and beers. (was the 'China Sea Garden Restaurant' before changing hands - when looking for it on the map).

AND OUR LOCAL FAVORITE BEACH SIDE CAFES ARE ............
Captains Table / Seafarer - both in Port Eynon (fish and chips, teas coffees)
Eddies Cafe: Hill End Caravan Park, Llangennith: Great for a full Welsh Breakfast until 10.30am. Then great lunches and views across the dunes. 10 mins drive from the cottage. Tel: 01792 386606 Hillend Caravan Park Ltd, Llangennith SA3 1JD
Langland Brasserie, on Langland Bay, South East Gower (park right next to it - no walking required): http://www.langlandsbrasserie.co.uk/ Tel: 01792 363699
Coffee@CWMIVY (bottom of Cwm Ivy Lane in Llanmadoc) is a lovely tea / coffee cakes craft cafe walking distance to Wagtails.

SLIGHTLY FURTHER AFIELD IN GOWER WE RECOMMEND THESE ......

The Poundffald, Three Crosses, Gower, http://www.poundffald.com/ Tel: 01792 873428 THE POUNDFFALD INN IS A QUINTESSENTIAL VILLAGE PUB WITH TRADITIONAL OPEN FIRES TO MATCH THE WARM WELCOME FROM KEITH AND HIS STAFF. IF YOU ARE LOOKING FOR REAL ALES AND HOMEMADE DISHES, WITH A FOCUS ON LOCAL INGREDIENTS, SERVED IN EITHER THE RESTAURANT OR OUR AWARD WINNING GARDEN THEN LOOK NO FURTHER. THIS IS THE PLACE FOR YOU!
The Beaufort Arms in Kittle, near Pennard: A nice cosy pub with good food. 15 mins drive from the cottage. Address: 18 Pennard Road, Bishopston, Swansea, West Glamorgan SA3 3JS Phone:01792 234521 lovely little pub quite near three cliffs bay, and on the way to Mumbles.
Plough and Harrow, Murton Green, Bishopston, Swansea - http://www.ploughandharrow.eu/ Tel:01792 234459 The Plough & Harrow, 88 Oldway, Murton, Gower, Swansea, SA3 3DJ self-acclaimed - as being "Gower's best Gastropub" .....and hard to argue really it is very good.
The Ship Inn, Port Eynon, South Gower - Swansea SA3 1NN Tel: 01792 390204 ..... under new management and newly refurbished in the cute seaside village of Port Eynon. Local Pub with pub food. 2 mins stroll onto Port Eynon Beach.
The Beach House Restaurant, Oxwich Beach, http://beachhouseoxwich.co.uk/ Address: Oxwich Beach, Gower, Swansea SA3 1LS Phone:01792 390965 Hours: typically (from March ) 12:00–2:00 pm, 6:00–9:00 pm really fab seafood and just right on the beach overlooking Oxwich Point really worth a visit for lunch
The Oxwich Bay Hotel - http://www.oxwichbayhotel.co.uk/ Oxwich Bay Gower Peninsula Swansea SA3 1LS Tel. 01792 390329 Email: info@oxwichbayhotel.co.uk Beautiful views, nice place to take a pot of tea
Fish and Chips:
The choices are

Llanmadoc Village: Hake in lager batter and chips in The Britannia - can't be beaten; Likewise try The Greyhound, King Arthur or Kings Head also excellent,

Proper chippies can be found as follows:

Port Eynon: 'The Captains Cabin' & 'The Seafarer' both in Port Eynon on the seafront - (two located there, Easter onwards until end September) - both very good - 10-12 mins drive via Burry. Sit in to eat with a cup of tea. Both Highly recommended
Scurlage: "CHIPS AHOY" Quite newly opened and a good way to end a visit to Rhossili Village: traditional fish chips, chicken quarter n chips etc.
Penclawdd: "Roma" :- An Excellent Fish n Chip Shop, Tel:
Gorseinon: if you fancy a 25 mins drive - the Roma Fish Bar or the ROMA 2000 Fish Bar in Gorseinon are both excellent.

Mumbles: CopperFish at the entrance to Mumbles Pier - Yallop's on the Seafront in Mumbles. Both famous and very good. Also Johnny's Chippy down the side street (opposite Newton Packed Meals Chinese takeaway > very good for a chinese takeaway).

For fish restaurant try El Pescador a lovely fish marina-side restaurant in Swansea West Marina near the Tower / Grape and Olive - the obvious tallest building in Swansea.

Indian Restaurants to sit in

You probably need to go into Mumbles or Swansea for the better ones.
We would recommend

The Mumtaz - 478 Mumbles Rd, The Mumbles, Swansea SA3 4BX Open ⋅ Closes 10:30PM menu.mumtazmumbles.co.uk Phone: 01792 367210
The Golden Curry - 89 Newton Rd, The Mumbles, Swansea SA3 4BN Open ⋅ Closes 11PM Phone: 01792 369329
The Vojon - (Swansea City Centre) - 12-13 St Helen's Rd, Swansea SA1 4AW 01792 466658 Menu: vojonswansea.co.uk
The Rasoi Indian Restaurant in Pontlliw near Gorseinon (very top end posh but excellent quality). Tel: 01792 882409http://www.rasoiwales.co.uk/
The Mumbai
in Blackpill, 5 Mill Ln, Mayals, Swansea SA3 5BD on Seafront near The Woodmans Pub, 1m outside Mumbles towards Swansea.
mumbaiindianrestaurant.co.uk

Others worth a try are
The Patti Raj, near St Helens Rugby Ground on Swansea Seafront, The Viceroy of India, in Swansea, and the Indian Cottage in Herbert Street, Pontardawe. The Rose Indienne and the Panshee both in St Helens Road Swansea Centre, are also getting good reviews.
Take away
The King Balti in Gowerton but it is a 20 mins drive. The other Indian Take Away in Gowerton "The Bonophool" is not bad either eat in or take away. Mumtaz right on Mumbles Front is a great eat in venue as is Chutneys in Newton Rd., Mumbles and Spice Grill as well as Mumbai Spice, next to the Woodmans at Blackpill, near Mumbles, Swansea.
Chinese sit in
The China Sea Garden in Penclawdd is the best sit in chinese restaurant in Gower. (Its also the only one!) Website:
www.seagarden.food-passion.co.uk
Tel: 01792 872886
Gowerton: Sterry Road -
Very good chinese
takeaway only
. Also opposite KING BALTI Indian take away.
Mumbles:
Newton Packed Meals
Chinese
takeaway
, Newton Road, Mumbles.
FURTHER AFIELD OUTSIDE GOWER
These are the best of the pick from Gower restaurants, and if you want to go slightly further afield into Mumbles and Swansea the following other suggestions are all worth a visit:
Mumbles (25 mins drive): http://www.mumbles.co.uk/restaurants.php
Patrick's
- Mumbles road, Mumbles seafront - fab food! Tel:
Labaires
, Newton Rd, Mumbles - Tel: 01792 366006
www.labaires.co.uk
Ocean
Cafe Bar - Mumbles - Tapas - Newton Rd., Mumbles - Tel: 361764
PAs
of Mumbles - Newton Rd., Mumbles - Tel: 367723
Knights
restaurant - 614-616 Mumbles Rd., Mumbles - Tel: 363184
Castellamare
, Bracelet Bay, Numbles - nice pizza's, fantastic viewing spot over Mumbles Lighthouse.
Swansea (25 mins drive)
La Braseria
- Wind Street in Swansea - excellent meat and fish Tel: 01792 469683
www.labraseria.com
Morgans
Hotel and Restaurant
Didier and Stephane's
- great french cuisine 01792 655603
No Sign Wine Bar
- one of Swansea most famour places - good food and wines
Hurrens
fish restaurant - Loughor, Tel: 01792 899092
Gallini's
- Fish and Italian restaurant - Unit 3, fishmarket Quay, Swansea Marina - Tel: 01792 456285
Also see
http://www.welshwales.co.uk/swansea_city_life_restaurants.htm
http://www.restaurant-guide.com/uk+wales+glamorgan+swansea.htm
http://www.food-passion.co.uk/restaurants/swansea-restaurants.html
http://www.10best.com/Swansea/Restaurants/
http://diningout.thisissouthwales.co.uk/index.asp?siteid=swa&area=southwales&category=eatingout
http://www.squaremeal.co.uk/restaurants/town/swansea