Wagtails Apartment
Post Office Green
Llanmadoc Village
Gower Peninsula
SA3 1DE
A self catering holiday cottage in the beautiful village of Llanmadoc, in the peaceful sandy far west of Gower Peninsula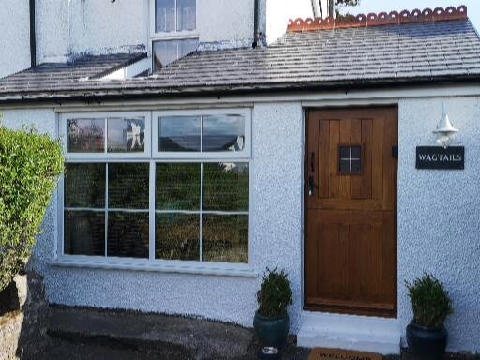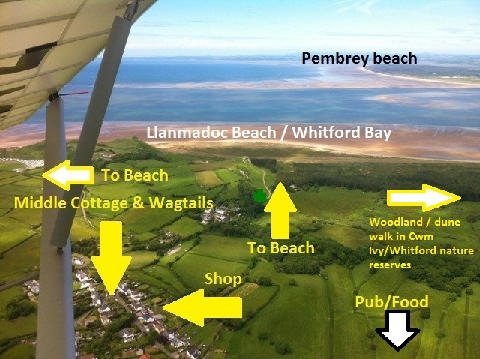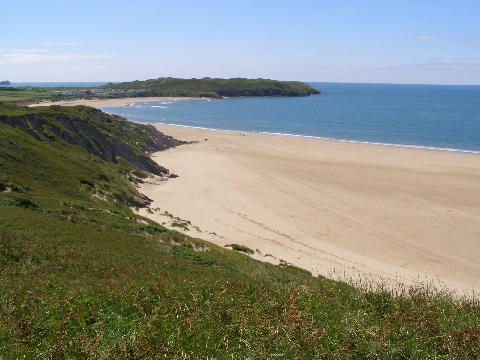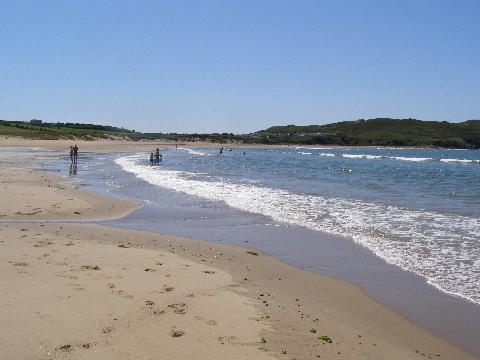 STILL OPEN*
EMAIL TO ENQUIRE

* Some residency postcode criteria may apply prior to Xmas due to COVID

HOW TO ENQUIRE

Please send an EMAIL to

heatheranddaihowells@gowercottage.com
or
Ring 01792 386668 or Text/WhatsAPP to: Mobile 07795 177663 to make a last minute booking.

We are now taking
"No Deposit"
Bookings for 2021
Just pay the full balance 14 days in advance of arrival by BACS or Cheque

( There is no point taking deposits for 2021 during this current COVID period as we would refund them anyway if there was a LOCAL LOCKDOWN - we do NOT keep deposits and we 100% look after our holiday guests interests. If you don't stay you don't pay.)

heatheranddaihowells@gowercottage.com
Ring 01792 386668 to make a last minute booking.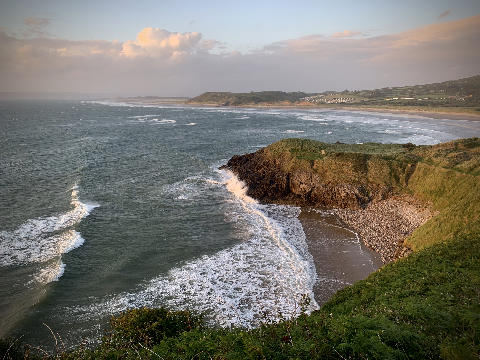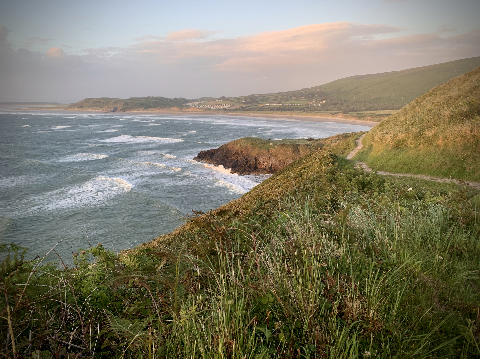 ABOVE: Photo taken in 2020 - of Whitford Bay / Broughton Beach taken from Blackrock Point looking east.
Llanmadoc Village - where Wagtails Apartment is located - will be to the right of this photo and above/behind the caravan park visible in this photograph.
WAGTAILS APARTMENT
2020
BOOKINGS,
REMAINING AVAILABILITY &
PRICES

2020

Arrive on the
afternoon of

Depart on the morning of

Price
(£)
GBP

Availability Status

Sun

29

Dec

to

Sat

4

Jan

£396

BOOKED TRUMPER
28th Dec - 1st Jan 2020

Sat

4

Jan

to

Sat

11

Jan

£256

BOOKED ANDY

Sat

11

Jan

to

Sat

18

Jan

£256

BOOKED WATKINS

Sat

18

Jan

to

Sat

25

Jan

£256

BOOKED WATKINS

Sat

25

Jan

to

Sat

1

Feb

£256

BOOKED SAYER

Sat

1

Feb

to

Sat

8

Feb

£256

BOOKED SAYER

Sat

8

Feb

to

Sat

15

Feb

£256

BOOKED SAYER

Sat

15

Feb

to

Sat

22

Feb

£256

BOOKED SAYER

Sat

22

Feb

to

Sat

29

Feb

£332

BOOKED SAYER

Sat

29

Feb

to

Fri

6

Mar

£332

BOOKED SAYER

Fri

6

Mar

to

Sat

14

Mar

£332

BOOKED SAYER

Sat

14

Mar

to

Sat

21

Mar

£332

BOOKED SAYER

Sat

21

Mar

to

Sat

28

Mar

£332

BOOKED SAYER

Sat

28

Mar

to

Sat

4

Apr

£332

BOOKED SAYER


Sat

4

Apr

to

Sat

11

Apr

£332

CLOSED / LOCKDOWN

Sat

11

Apr

to

Sat

18

Apr

£332

CLOSED / LOCKDOWN

Sat

18

Apr

to

Sat

25

Apr

£332

CLOSED / LOCKDOWN

Sat

25

Apr

to

Sat

2

May

£332

CLOSED / LOCKDOWN

Sat

2

May

to

Sat

9

May

£370

CLOSED / LOCKDOWN

Sat

9

May

to

Sat

16

May

£370

CLOSED / LOCKDOWN

Sat

16

May

to

Sat

23

May

£370

CLOSED / LOCKDOWN

Sat

23

May

to

Sat

30

May

£370

CLOSED / LOCKDOWN

Sat

30

May

to

Sat

6

Jun

£370

CLOSED / LOCKDOWN

Sat

6

Jun

to

Sat

13

Jun

£370

CLOSED / LOCKDOWN

Sat

13

Jun

to

Sat

20

Jun

£370

CLOSED / LOCKDOWN

Sat

20

Jun

to

Sat

27

Jun

£370

CLOSED / LOCKDOWN

Sat

27

Jun

to

Sat

4

Jul

£370

CLOSED / LOCKDOWN

Sat

4

Jul

to

Sat

11

Jul

£370

CLOSED / LOCKDOWN

Sat

11

Jul

to

Sat

18

Jul

£439

AVAILABLE
BOOKED RICHENS
OPEN from
Saturday 11th July

Sat

18

Jul

to

Sat

25

Jul

£439

BOOKED WARNE

Sat

25

Jul

to

Sat

1

Aug

£517

BOOKED MCCALL
25th-29th
4 nights

Weds 29th-1st Aug
BOOKED MAYLE
3 nights

Sat

1

Aug

to

Sat

8

Aug

£582

BOOKED SAM SMITH

Sat

8

Aug

to

Sat

15

Aug

£546

BOOKED EADES
8-11th
BOOKED GABBALDONI
11th-15th Aug
4 nights

Sat

15

Aug

to

Sat

22

Aug

£546

BOOKED URBANSKI

Sat

22

Aug

to

Sat

29

Aug

£546

BOOKED HURDELL

Sat

29

Aug

to

Sat

5

Sep

£358

BOOKED HATFIELD

Sat

5

Sep

to

Sat

12

Sep

£358

BOOKED EVRALL

Sat

12

Sep

to

Sat

19

Sep

£358

BOOKED GOLLEDGE

Sat

19

Sep

to

Sat

26

Sep

£358

BOOKED GOLLEDGE

Sat

26

Sep

to

Sat

3

Oct

£358

CANCELLED O'REILLY
AVAILABLE TO SINGLE HOUSEHOLDS FROM SWANSEA COUNTY AREA

Sat

3

Oct

to

Sat

10

Oct

£358

CANCELLED CHANDLER
AVAILABLE TO SINGLE HOUSEHOLDS FROM SWANSEA COUNTY AREA
BOOKED AMW 2 NIGHTS 9-11th Oct

Sat

10

Oct

to

Sat

17

Oct

£358

CANCELLED
THOMPSON/KEEPING
AVAILABLE TO SINGLE HOUSEHOLDS FROM SWANSEA COUNTY AREA

Sat

17

Oct

to

Sat

24

Oct

£358

CANCELLED
DOT & BARRY
AVAILABLE TO SINGLE HOUSEHOLDS FROM SWANSEA COUNTY AREA

Sat

24

Oct

to

Sat

31

Oct

£358

WALES LOCKDOWN - CLOSED

Sat

31

Oct

to

Sat

7

Nov

£309

WALES LOCKDOWN - CLOSED

Sat

7

Nov

to

Sat

14

Nov

£309

WALES LOCKDOWN - CLOSED until 9th Nov
thereafter
England Lockdown means
AVAILABLE FOR BOOKINGS FROM People travelling from within Wales (Welsh home address)

Sat

14

Nov

to

Sat

21

Nov

£309

England Lockdown means
AVAILABLE FOR BOOKINGS FROM People travelling from within Wales (Welsh home address)

Sat

21

Nov

to

Sat

28

Nov

£309

England Lockdown means
AVAILABLE FOR BOOKINGS FROM People travelling from within Wales (Welsh home address)

Sat

28

Nov

to

Sat

5

Dec

£257

England Lockdown means
AVAILABLE FOR BOOKINGS FROM People travelling from within Wales (Welsh home address)
REOPENING TO ALL AFTER 2nd Dec

Sat

5

Dec

to

Sat

12

Dec

£257

Available to all from 3rd Dec

Sat

12

Dec

to

Sat

19

Dec

£257

Available

Sat

19

Dec

to

Sat

21

Dec

£99

BOOKED ANDY
12-19th

Sat

21

Dec

to

Sat

28

Dec

£375

BOOKED XMAS 2020
ELLSLEY
22-27th
BOOKED Tossell
27-29th Dec

SCROLL DOWN FOR NEW YEAR 2020 INTO 2021