Wagtails Seaside Apartment

"The Old Llanmadoc Village Shop & Post Office"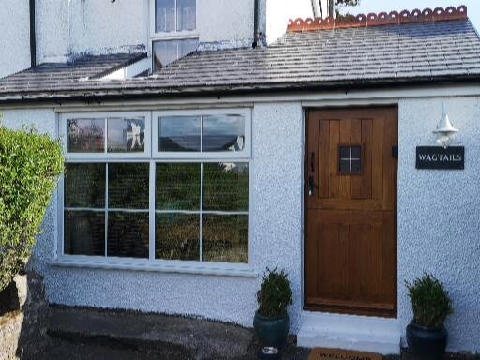 Post Office Green
Llanmadoc Village
Gower Peninsula
SA3 1DE
To make an enquiry



EMAIL: heatheranddaihowells@gowercottage.com



or

TEXT/CALL​​​​: 07795 177663
or CALL us on : 01792 386668

See our "Guest Comments" page
to see what our guests said.
(Go to the top left of screen)
We are one of the longest standing self-catering holiday cottages still operating in Llanmadoc - Wagtails has been open for business since 2005 and we have owned & operated it since August 2007.

Heather & Dai Howells xx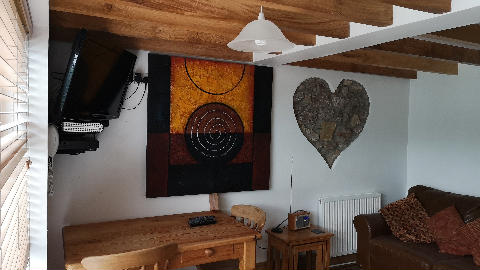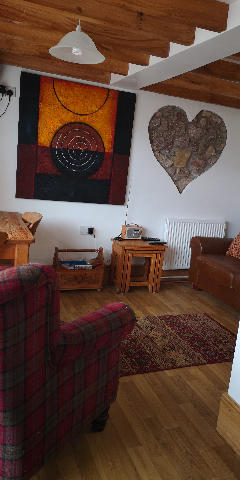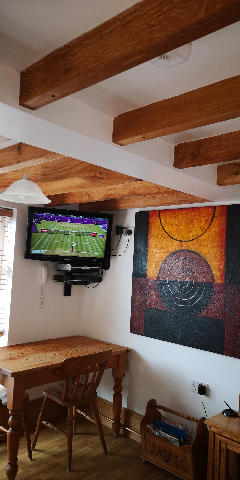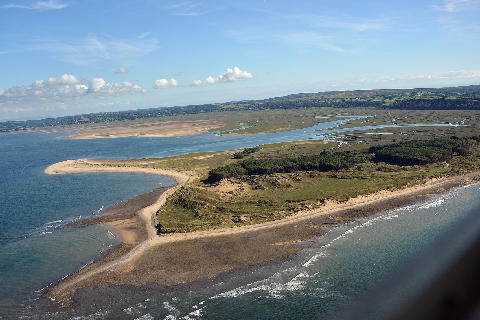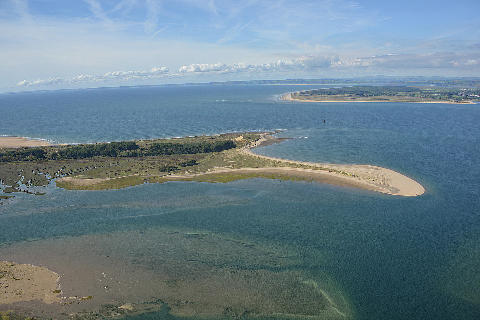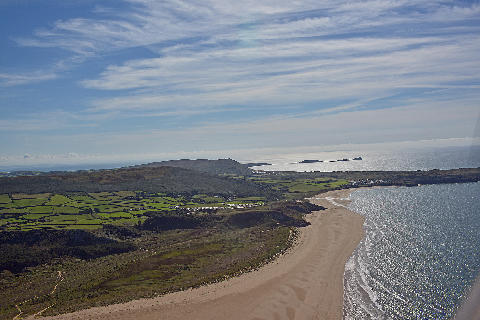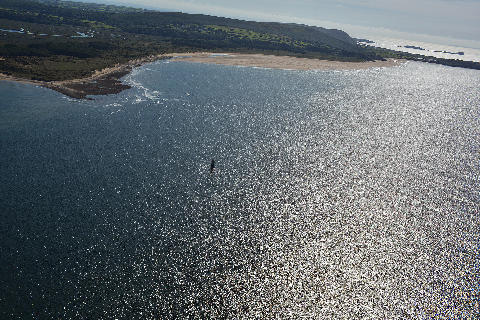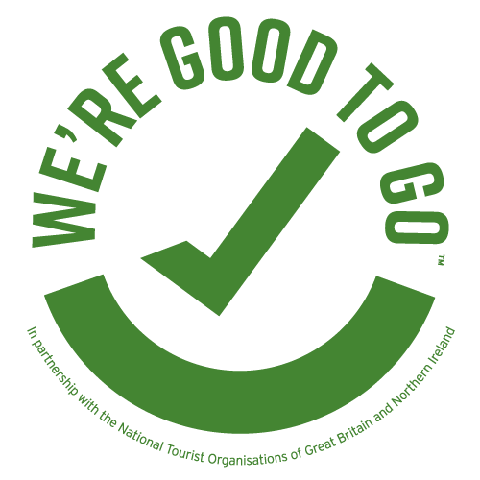 We are COVID APPROVED by Visit Wales "Good to Go" Scheme.

A dog friendly one-bedroom self-catering holiday "cottage apartment" in the beautiful village of Llanmadoc,
in the peaceful & friendly north west of Gower Peninsula

Welcoming happy guests since 2007
Perfectly located and very comfortable
apartment with many quality facilities and fittings



Supporting Diversity, warmly welcoming all.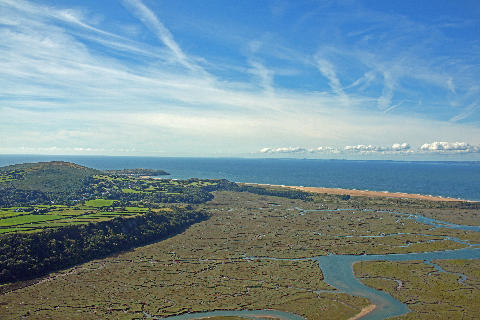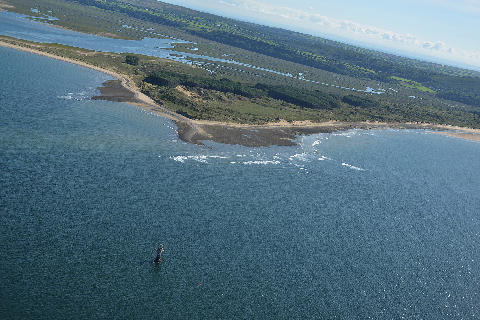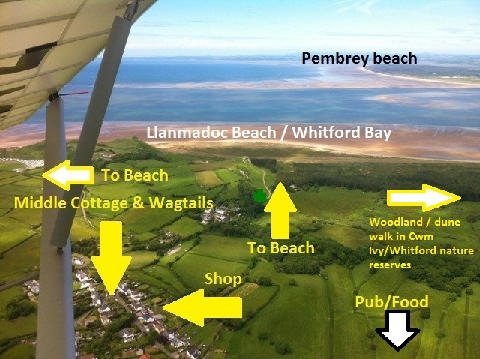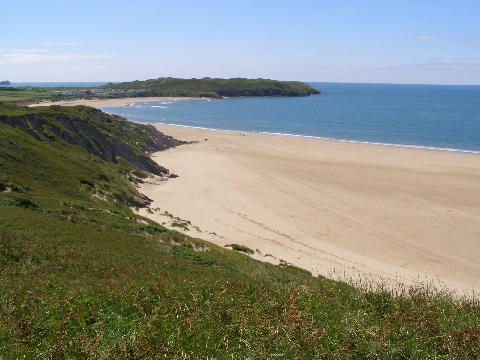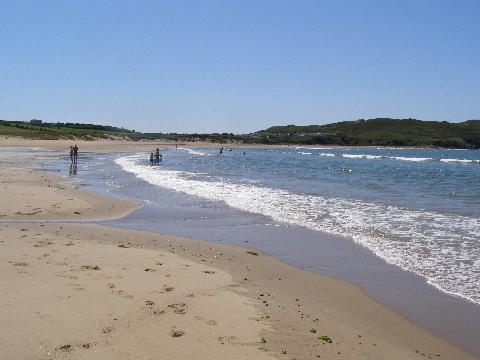 About Wagtails
Walk to: Village Shop in 2 minutes, pub in 10 minutes, beaches in 20 minutes.
We are dog friendly and allow guests to bring up to four small dogs or three larger ones
Some of the most stunning landscape in Wales from the doorstep. Windswept beaches, dunes, rocky cliff paths. Woodlands, limestone valleys, hills overlooking Carmarthen Bay and Worms Head. SSSIs and Nature Reserves. Estuary and open sea. Just leave your car in the drive and just enjoy the local area and walks.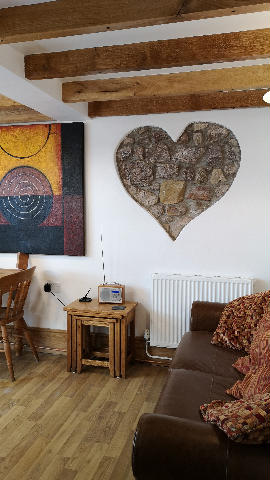 Parking is off road in the (exclusive to you) drive up to the front door.
You can reverse your car right up to the front door if you want.
Wagtails has an Oak "Stable" front door from the driveway. & outside lamp.
This allows you to open the top half and get some fresh air whilst keeping your dog in safe.
Front door into kitchen area into open lounge/dining area.
S'fast WIFI Broadband Router (exclusive to Wagtails guests)
36" TV with Sky
(Includes BT Sports, SKY Sports, Sky Movies and Discovery/National Geographical Channels etc etc)
Pine table and two pine chairs. High quality double leather sofa (sofabed within) & armchair.
Oak ledge and brace door into bedroom (double bed, chest of oak drawers and wardrobe, Pure DAB radio, TV)
Leading via further oak ledge and brace door into the spacious bathroom
Bathroom has bathtub, mixer shower over. Wc, pedestal basin, lit mirror, vanity shelving.
Kitchen has ceramic glass hob, fitted oven/grill, toaster, microwave, kettle, sink/drainer, fridge with ice compartment.
Heating is via combiboiler system, you can control radiators (if it gets too warm) but it is never too cold.
Constant hot water in bath, basin and kitchen sink.
Additional wall room heater if ever required. You will not be cold in Wagtails.
Access to rear garden is via side path to rear patio from which a wooden gate takes you up to the very decent sized mature and pretty garden areas (all dog enclosed) exclusively for use by Wagtails guests.
All bed linen, loo roll, utilities are provided within the price.
The apartment itself is no smoking and has smoke / fire alarms, but you are welcome to smoke in the front driveway or leaning facing out of the stable door, or in the rear patio or gardens.

The four main stones of the geology of Gower all in one wall.
Millstone grit, carboniferous limestone, old red sandstone and gower conglomerate.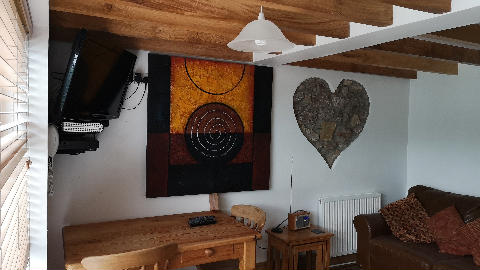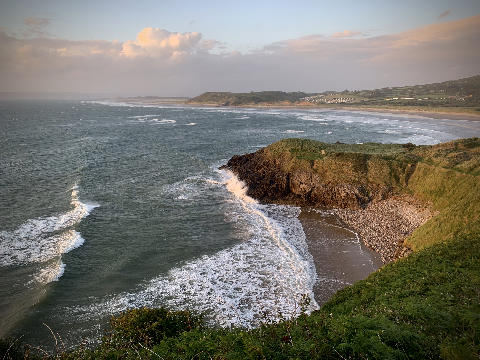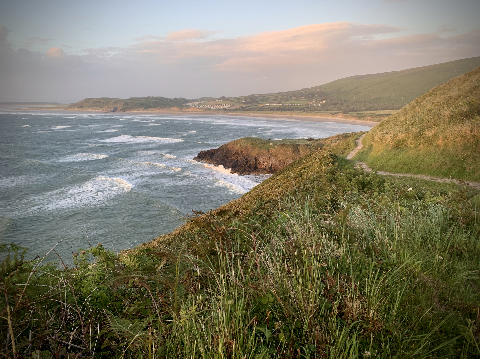 ABOVE: Photo taken in 2020 - of Whitford Bay / Broughton Beach taken from Blackrock Point looking east.
Llanmadoc Village - where Wagtails Apartment is located - will be to the right of this photo and above/behind the caravan park visible in this photograph.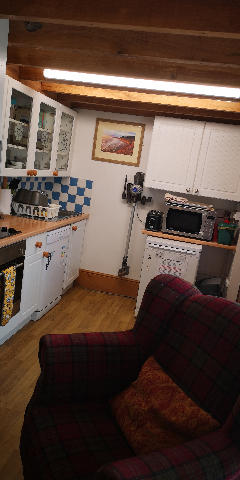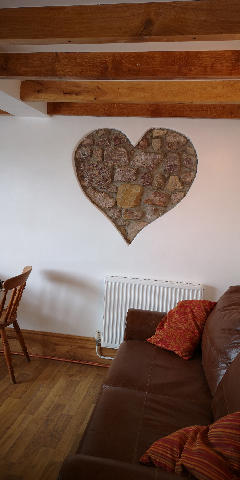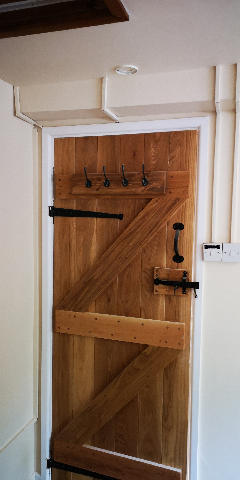 Please send an email with your enquiry or booking request to
heatheranddaihowells@gowercottage.com
or you can Ring 01792 386668 or Text or WhatsApp us on 07795 177663

Heather will then Email you with any information you have asked for and/or the booking form.
We will ask you to complete the booking form, and email it back to us

NB: It might help you to know that summer bookings are mostly reserved by customers between start of January and the end of Feb.
WAGTAILS - AVAILABILITY & PRICES

Arrive on the
afternoon of

Depart on the morning of

Price
(£)
GBP

2022

Wed

5

Jan

to

Sat

8

Jan

£220

AVAILABLE 3 nights

Sat

8

Jan

to

Sat

15

Jan

BOOKED WATKINS

Sat

15

Jan

to

Sat

22

Jan

BOOKED WATKINS

Sat

22

Jan

to

Sat

29

Jan

£370

AVAILABLE

Sat

29

Jan

to

Fri

4

Feb

£37

AVAILABLE
(6 nights)

Sat

5

Feb

to

Sat

12

Feb

£350

BOOKED HATCHER
4-7th Feb
AVAILABLE
7th - 12th Feb
5 NIGHTS £295

Sat

12

Feb

to

Sat

19

Feb

£370

AVAILABLE

Sat

19

Feb

to

Sat

26

Feb

BOOKED RICHARDS

Sat

26

Feb

to

Sat

5

Mar

£370

AVAILABLE

Sat

5

Mar

to

Sat

12

Mar

£400

STILL AVAILABLE
5th-11th
S​​​​ix nights @ £375

BOOKED EADES
3 NIGHTS
11-14th March

Sat

12

Mar

to

Sat

19

Mar

£400


STILL AVAILABLE
Mon 14th-19th
five nights at £350

Sat

19

Mar

to

Sat

26

Mar

£400

AVAILABLE

Sat

26

Mar

to

Sat

2

Apr

£425

AVAILABLE

Sat

2

Apr

to

Sat

9

Apr

£425

AVAILABLE

Sat

9

Apr

to

Sat

16

Apr

£425

BOOKED TRIMBLE

Sat

16

Apr

to

Sat

23

Apr

£425

AVAILABLE

Sat

23

Apr

to

Sat

30

Apr

£425

AVAILABLE

Sat

30

Apr

to

Sat

7

May

£425

AVAILABLE

Sat

7

May

to

Sat

14

May

£445

BOOKED
PARASKEVAIDES

Sat

14

May

to

Sat

21

May

£455

AVAILABLE

Sat

21

May

to

Sat

28

May

£465

AVAILABLE

Sat

28

May

to

Sat

4

Jun

£475

AVAILABLE

Sat

4

Jun

to

Sat

11

Jun

£490

AVAILABLE

Sat

11

Jun

to

Sat

18

Jun

£490

BOOKED
HOOLIEAN

Sat

18

Jun

to

Sat

25

Jun

£490

BOOKED
MARSHALL

Sat

25

Jun

to

Sat

2

July

£490

AVAILABLE

Sat

2

July

to

Sat

9

July

£490

BOOKED BAYLISS

Sat

9

July

to

Sat

16

July

£490

BOOKED SCOTT

Sat

16

July

to

Sat

23

July

£490

BOOKED SCOTT

Sat

23

July

to

Sat

30

July

£550

AVAILABLE

Sat

30

July

to

Sat

6

Aug

£575

AVAILABLE

Sat

6

Aug

to

Sat

13

Aug

£575

AVAILABLE

Sat

13

Aug

to

Sat

20

Aug

£575

AVAILABLE

Sat

20

Aug

to

Sat

27

Aug

£550

AVAILABLE

Sat

27

Aug

to

Sat

3

Sep

£525

AVAILABLE

Sat

3

Sep

to

Sat

10

Sep

£490

AVAILABLE

Sat

10

Sep

to

Sat

17

Sep

STILL AVAILABLE




10th-13th @ £255




BOOKED HAMBLIN




14th-24th Sept

Sat

17

Sep

to

Sat

24

Sep

BOOKED HAMBLIN




14th-24th Sept

Sat

24

Sep

to

Sat

1

Oct

£450

AVAILABLE

Sat

1

Oct

to

Sat

8

Oct

BOOKED GREEN

Sat

8

Oct

to

Sat

15

Oct

£410

AVAILABLE

Sat

15

Oct

to

Sat

22

Oct

£410

AVAILABLE

Sat

22

Oct

to

Sat

29

Oct

£410

AVAILABLE

Sat

29

Oct

to

Sat

5

Nov

£410

AVAILABLE

Sat

5

Nov

to

Sat

12

Nov

£410

AVAILABLE

Sat

12

Nov

to

Sat

19

Nov

£410

AVAILABLE

Sat

19

Nov

to

Sat

26

Nov

£385

AVAILABLE

Sat

26

Nov

to

Sat

3

Dec

£375

AVAILABLE

Sat

3

Dec

to

Sat

10

Dec

£350

AVAILABLE

Sat

10

Dec

to

Sat

17

Dec

£350

AVAILABLE

Sat

17

Dec

to

Wed

21

Dec

£240

AVAILABLE
4 NIGHTS

Wed

21

Dec

to

Wed

28

Dec

£441

AVAILABLE

Wed

28

Dec

to

Wed

3

Jan

£441

AVAILABLE

Wed

3

Jan

to

Sat

7

Jan

£200

AVAILABLE

Sat

7

Jan

to

Sat

14

Jan

£350

AVAILABLE

Sat

14

Jan

to

Sat

21

Jan

£350

AVAILABLE

Sat

21

Jan

to

Sat

28

Jan

£350

AVAILABLE
SHORT BREAKS PRICING
We accept shorter breaks or either 3 or 4 nights as shown below.

Summer Short Break rate
Arriving after 1 April or departing by 31 October

4 night break
Tuesday to Saturday or
Saturday to Wednesday

3 night break
Saturday to Tuesday or
Wednesday to Saturday

*Prices for summer short breaks as above will be pro-rata
the published weekly price
then add £85 extra changeover fee

Winter 2021 and 2022 flat fixed Short Break rates
Arriving after 31 October & departing before 1st April

4 night short break
Tuesday to Saturday - £285 or
Saturday to Wednesday - £285

3 night break
Saturday to Tuesday - £255 or
Wednesday to Saturday - £255

To make an enquiry

heatheranddaihowells@gowercottage.com

or Text / WhatsApp Mob: 07795 177663






WAGTAILS APARTMENT
2021

BOOKINGS 2021



2021

Arrive on the
afternoon of

Depart on the morning of

Availability Status

Sat

6

Mar

to

Sat

13

Mar

CLOSED for Refurb

Sat

13

Mar

to

Sat

20

Mar

CLOSED for Refurb

Sat

20

Mar

to

Sat

27

Mar

CLOSED for Refurb

Sat

27

Mar

to

Sat

3

Apr

CLOSED for Refurb

Sat

3

Apr

to

Sat

10

Apr

CLOSED for Refurb

Sat

10

Apr

to

Sat

17

Apr

CLOSED for Refurb

Sun

18

Apr

to

Sat

24

Apr

CLOSED for Refurb

Sat

24

Apr

to

Sat

1

May

CLOSED for Refurb

Sat

1

May

to

Sat

8

May

CLOSED for Refurb

Sat

8

May

to

Sat

15

May

CLOSED for Refurb

Sat

15

May

to

Sat

22

May

CLOSED for Refurb

Sat

22

May

to

Sat

29

May

CLOSED for Refurb

Sat

29

May

to

Sat

5

Jun

CLOSED for Refurb

Sat

5

Jun

to

Sat

12

Jun

CLOSED for Refurb

Sat

12

Jun

to

Sat

19

Jun

CLOSED for Refurb

Sat

19

Jun

to

Sat

26

Jun

REOPENS &
BOOKED ROBINSON

Sat

26

Jun

to

Sat

3

Jul

BOOKED ROBINSON

Sat

3

Jul

to

Sat

10

Jul

Jake Graupner
Cancelled

Sat

10

Jul

to

Sat

17

Jul

BOOKED HOLLOWAY

Sat

17

Jul

to

Sat

24

Jul

BOOKED 17-20 HATTER
BOOKED BUTCHER
20-24th July

Sat

24

Jul

to

Sat

31

Jul

BOOKED REES

Sat
31
Jul
Fri
6
Aug

BOOKED SHARMALA


CANCELLED

Sun

8

Aug

to

Sat

14

Aug

BOOKED WATKINS
Sun 8th - Sat 14th Aug
(6 nights)

Sat

14

Aug

to

Sat

21

Aug

BOOKED J&J JONES
from Merthyr
CANCELLED

Mon
 

23
 

Aug
 

to

Mon

30

Aug

BOOKED TOSSELL
Fri 20th-Monday 23rd

BOOKED RAMSDALE
Mon 23 - Mon 30Aug
7 nights

Mon

30

Aug

to

Thur

2

Sep

BOOKED EADES
Mon 30Aug - Thurs 2nd Sep
3 nights

Thur

2

Sep

to

Fri

10

Sep

BOOKED JOHNSON
Thurs 2 Sep - Friday 10th Sept
8 nights

Sat

11

Sep

to

Sat

18

Sep

BOOKED SUE HILL

Sat

18

Sep

to

Sat

25

Sep

BOOKED HADDOCK

Sat

25

Sep

to

Sat

2

Oct

BOOKED FLINT

Sat

2

Oct

to

Sat

9

Oct

BOOKED ANDY ROGERS

Sat

9

Oct

to

Sat

16

Oct

BOOKED KEEPING
3 NIGHTS
Sat 9th to Tuesday 12th

BOOKED CHARD
12th to 15th

Sat

16

Oct

to

Sat

23

Oct

BOOKED STAPLEFORD

Sat

23

Oct

to

Sat

30

Oct

BOOKED Y SAYER

Sat

30

Oct

to

Sat

6

Nov

BOOKED Y SAYER

Sat

6

Nov

to

Sat

13

Nov

BOOKED Y SAYER

Sat

13

Nov

to

Sat

20

Nov

NOT BOOKED

Sat

20

Nov

to

Sat

27

Nov

NOT BOOKED

Sat

27

Nov

to

Sat

4

Dec

NOT BOOKED

Sat

4

Dec

to

Sat

11

Dec

BOOKED STEELE
2nd-9th

Sat

11

Dec

to

Sat

18

Dec

NOT BOOKED

Sat

18

Dec

to

Wed

22

Dec

NOT BOOKED

Wed

22

Dec

to

Wed

29

Dec

BOOKED REES
24-29th

Wed

29

Dec

to

Wed

5

Jan

BOOKED SJ & MD
NEW YEAR 21-22
4 nights